Balloon Printing
Balloon printing is the ideal way to promote an individual company or event, or to add a personal touch to weddings, birthdays, anniversaries and any other special occasions. Balloon printing is a perfect way of promoting your business in an exciting, immediate way, at a relatively low cost when compared with other types of advertising.
Printed Balloons
Balloon printing is a specialised process and every balloon is inflated before being screen-printed, the balloons are printed with a very thin layer of ink and is then kept inflated while the ink dries. Balloon printing is a very specialised process and one that we at Celebration Balloons have a lot of experience with. Custom balloon printing is indeed an industry on its own.
All of our balloon printing is done by our own highly trained staff, which ensures that all the balloons are printed to a very high standard in quantities from 20 to 100,000.
Balloons
You can have your balloons in the colour of your choice, or a specific combination of colours or why not go for an assortment of colours. We can print onto either a high quality economy balloon, which is perfect for promotional work, or occasional décor, but we would recommend the Qualatex brand balloons where a higher quality or 'Decorator Quality' is required such as Weddings or Corporate functions or where you expect to create professional décor.
Printed balloons can be used for balloon releases, balloon decorations and balloon giveaways. If you are planning an event using balloons why not get the balloons sponsored by having them printed with the sponsors logo.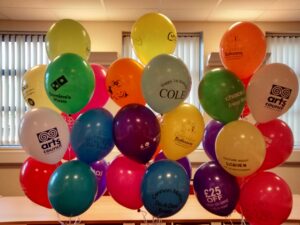 Printed balloons are a great way to bring your company's or your clients name to everyone's attention, either for decorating an event with or as a give away, our screen printing gives bright, colourful and pin-sharp logos, graphics and text. Balloon printing is becoming more and more popular in the UK, it's a fantastic product and a cost effective way to get your brand or your message noticed.