We are often asked if we cover specific areas, like Dublin, Ireland, Coleraine, Newtownabbey, Galway, Manchester, and even New Zealand. Well the answer isn't totally straightforward, or rather it is straightforward, but quite often, not the answer people are hoping for. We can deliver to wherever you want if you pay me enough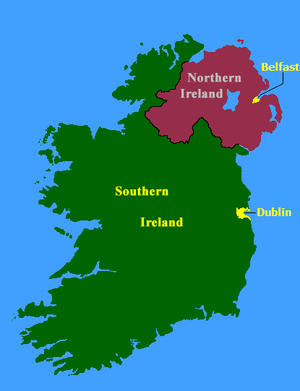 It really also depends on the product or service you want us to supply;
Printed Balloons
If you just need printed balloons we will usually send them by courier or in the mail. They can be sent pretty much anywhere at a reasonable cost, at the time of writing (16th May 2022) it will cost £7.00 to send up to 5000 balloons to anywhere in Northern Ireland, or £10.00 to anywhere in the South of Ireland. The rest of the UK will cost up to £17.50 depending on the quantity. We also post out to the rest of the world at the normal Royal Mail/Courier rates.
We prefer to use delivery services that are trackable and preferably next-day. You wouldn't believe how often people phone us up telling us their package hasn't arrived and when we check it was delivered that morning or the day before. We are usually able to tell what time the balloons were delivered and who signed for them.
Decor Jobs
If you are looking for balloon decor or a balloon delivery, then we have to do the delivery ourselves. The distance we need to travel will obviously be reflected in the price. The local Newtownabbey area after 9:30 am will cost £5.00, but if you want us to deliver to Cork for 8:30 in the morning then that will cost a lot.
I once had a client insist that I give her a price for doing balloon decor for her daughter's wedding in Manchester. She didn't realise that Google searches will sometimes give you results for companies that are outside your area. It actually took a bit of convincing that I was serious and that the delivery charge would be in excess of £500.00
Generally, most of our balloon decor jobs would be within a radius of about 50 miles from Newtownabbey. If you need help finding a company in a particular area, please give us a call and we'll do our best to help as we have lots of contacts all over the country.
Oh, I nearly forgot, the job in New Zealand was for a Balloon Bouquet to be delivered to an address in North Island. We were able to help the client by contacting a professional balloon company in New Zealand they were able to complete the job to the delight of the recipient.